Go Bigger and Brighter with Laser Projectors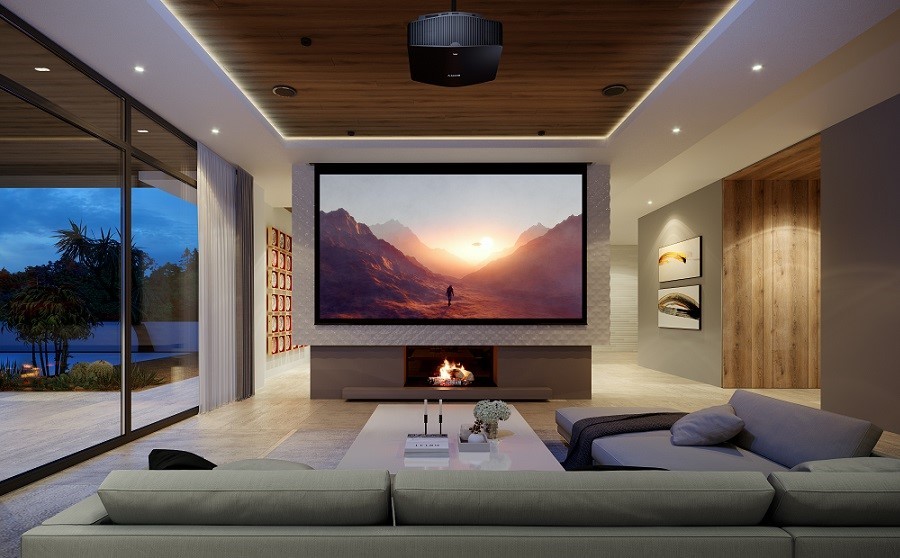 Why the Newest Projectors Are Perfect for Any Home Theater System
Seeing is believing when you have a laser projector in your home theater. Today's high-end and high-lumens models from Sony and JVC deliver crisp, clear images in any light condition. So, even though you may still want to lower the smart lighting and motorized shades in your private cinema to create the ideal ambiance, you don't need to. An advanced laser projector provides full-color, bright viewing all the time.  
The latest projectors win the war against artificial and natural light! Keep reading our blog article to see how your home theater system in Kansas City, MO, can benefit from a state-of-the-art projector.  
SEE ALSO: 2 Must-Have Products For Your Next AV Installation 
More Lumens, More Visual Detail 
In the past, it didn't take much to ruin the movie-watching experience in a home theater. Switch on a light or open the shades, and the image on the screen faded beyond recognition. This had to do with several things. The light sources in older projectors weren't as bright as today's systems, the screens were not designed to block ambient light, and the technology had not progressed to what it is now. 
Today's advanced projectors use a laser light source with high lumens, some as high as 10,000! But you won't be needing that in your home theater. Many home entertainment spaces – even in bright rooms – can deliver an exceptional viewing experience with projectors at1,800 lumens. If you have a room with a lot of light, then 3,000 lumens or more could be the best choice. Best of all, because it is a laser light source, you'll up to 20,000 hours of viewing without needing to replace the lamp.  
New Projectors Use Smart Technology  
Both TVs and projectors of yesteryear weren't very smart. They simply served one purpose: to display moving images for your enjoyment. The problem was you couldn't really interact with them, and they didn't know how to interact with you either. But things have changed. Now, projectors are smart. Take Sony projectors, for instance. They feature advanced intelligent settings that optimize the picture based on the environment, helping the colors on the screen to accurately maintain their contrast and vivacity, even in bright rooms.  
In addition, some Sony projectors employ an Ambiance feature that automatically measures the room's brightness using a light sensor. As your home theater lighting changes, the projectors respond quickly to adjust the level of brightness on the screen. And of course, all Sony projectors display crisp and clear pictures because they use 4K technology, the company's patented X1™ processor, and advanced Reality Creation for upscaling and sharpening images.  
Don't Forget Your Home Theater Screen 
You may have a high-quality projector from JVC or Sony, but your viewing experience will not be the best if you have a subpar screen. Screen Innovations gives your home theater system an upgrade. The company designs and manufactures screens that only receive light that is cast from your projector. Any ambient lighting or annoying glare is eliminated from the screen. Instead, you'll enjoy superb color, amazing contrast, and incredible brightness even with the lights on!  
Upgrade your home theater system with a state-of-the-art laser projector and movie screen. For a free consultation, please call Applause Custom Sight & Sound at (913) 498-1183, use the live chat box below, or fill out our contact form. 
Stay Informed
When you subscribe to the blog, we will send you an e-mail when there are new updates on the site so you wouldn't miss them.