Brands
The Leaders of Design & Innovation
Meet the companies that we call partners. They form the foundation of our product specifications thanks in part to their best-in-class performance, breadth of product offering and ongoing technological innovation.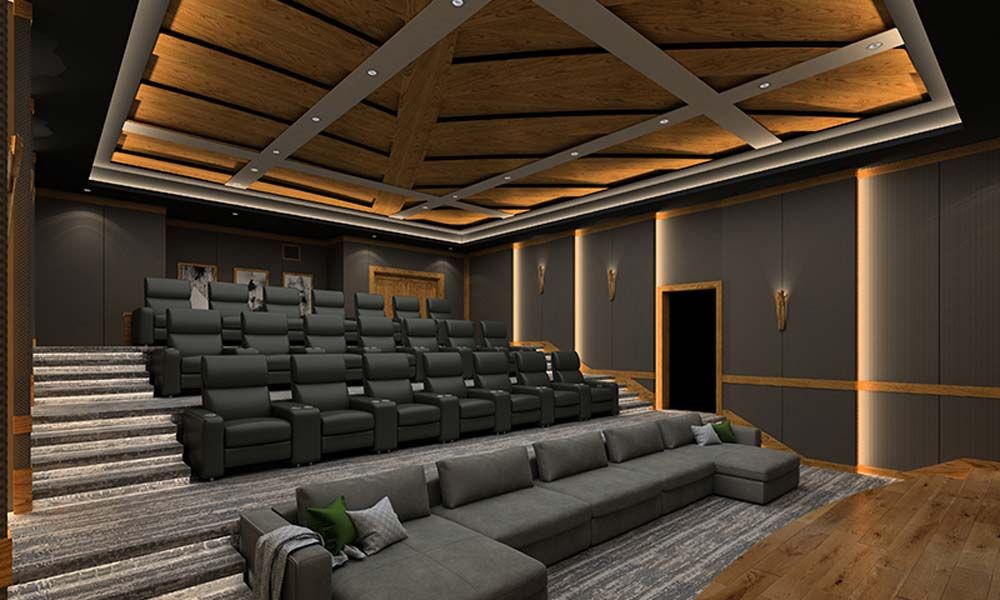 In 1998, Michael Murphy began CinemaTech's journey in Texas with a single purpose: creating the perfect home theater seating. This was the beginning of the luxury home cinema seating industry, and the company expanded its services to home theater design in 2003. Having acquired Acoustic Room Systems in 2005, the home theater company now offers dedicated seating and acoustics along with its design services in Overland Park, KS, and beyond. Their award-winning seating solutions include incliners and loungers featuring the most beautiful leather and acoustic fabrics. Meanwhile, acoustic treatments manage absorption and reflection to create a dream sonic environment for movie lovers and audiophiles alike without affecting the room's decor. Each CinemaTech project strives to strike the perfect balance between aesthetics and performance while offering easy-to-use turnkey solutions for its clients.
Experience personalized control for your unique lifestyle with the power of Salt Lake City-based Control4 commercial automation and smart home services. Connect virtually any device in your home or business to work together, and command them all with customized one-touch controls and scenes from your system remote or smart device of choice. Whether you're home or away, Control4 gives you the power to command and monitor your estate or business in one platform. The transformative benefits of a smart connected home and business with Control4 delivers convenience, peace of mind and an efficient environment that's comfortable and safe in your Kansas City or Mission Hills home.
Developing innovative, high-quality products for its customers is Hunter Douglas' primary mission. Founded in 1946 after creating the first aluminum blind, Hunter Douglas has revolutionized the window coverings industry over the past five decades. Over the years, Hunter Douglas has refused to sacrifice style for function. Designed with aesthetics in mind, their window coverings also provide lighting control, insulation, protection from UV rays and energy efficiency. Shades are available in sheer, cellular honeycomb, roman, roller and woven wood varieties. If you want to move away from traditional roller shades, Hunter Douglas also offers shutters, vertical blinds, wood blinds, metal blinds and drapes. Scheduling your motorized window treatments to open at sunrise or close midday to protect your home from overheating has never been easier thanks to PowerView Automation, Hunter Douglas' powerful programmable operating system that also integrates beautifully with many smart-home systems.
Discover the height in high-performance sound with JBL Synthesis loudspeakers trusted by recording artists worldwide. Since its foundation in 1946, the Los Angeles-based company has been at the forefront of some of the greatest advancements in home audio and surround sound. In collaboration with LucasFilm engineers, JBL pioneered surround sound through cutting-edge THX technologies. Its loudspeakers combine horn-loaded compression drivers, titanium tweeters and precise crossover networks for the most accurate sound reproduction. Varied speaker lines include floorstanding, bookshelf, in-wall and in-ceiling models ideal for any space. Ensure the ultimate quality by pairing speakers with JBL amplifiers available for high-performance and multi-channel configurations. For top-tier sound in any environment, all loudspeakers include the company's ARCO software. This room correction technology offers the ideal calibration and placement to ensure everyone in your theater or listening room gets the same high-level sound.
Speak to your smart home like you would a family member or friend with Josh, a sophisticated voice-controlled automation system created by Denver-based artificial intelligence company Josh.ai. Josh uses proprietary Natural Language Processing technology so you can command your home in whatever way feels most comfortable. Josh will learn your daily patterns and take note of your preferences to make your smart home experience more effortless than ever. Since its founding in 2015, Josh.ai has put your privacy and protection first, promising never to sell your data and giving you full control over how much information your home collects. Use Josh with best-in-class smart home products like Control4, Lutron, Nest, Sony and more, and control your whole home from anywhere in the world with your smartphone.
JVC, known formally as JVC Kenwood Corporation, is a multinational electronics company headquartered in Yokohama, Japan. JVC was founded in 1927 and is known best for introducing Japan's first televisions and developing the Video Home System (VHS) video recorder. In 2008, JVC merged with Kenwood Corporation to form what is commonly stylized as JVC KENWOOD and focuses today on consumer and professional audio and video electronics. From dazzling 4K and 8K projectors and smart TVs to car audio and high-resolution headphones, JVC offers an array of solutions for all your entertainment needs. For movie enthusiasts and music purists alike, JVC is committed to bringing picture and sound to life.
With over ten thousand independent and major studio motion picture films, TV series, concerts and documentaries available, Kaleidescape serves homeowners the most pristine menu of 4K Ultra HD entertainment to be enjoyed from the comfort of their couches. Kaleidescape combines movie players and servers with online selection and delivery of the highest quality media, taking the top spot for must-have content sources that power your home theater or media room. Browse, select and purchase any content you desire, and upload your physical media to be stored digitally with the rest of your entertainment. The intuitive interface is designed for graceful navigation of your selections and settings so you never have to take your eyes off the screen.
Since its foundation in 1972, Monitor Audio has specialized in hi-fi loudspeaker designed for any application. The British company delivers sonically superior solutions for surround sound, stereo systems, and discreet architectural installations. Monitor Audio loudspeakers rely on their trademark metal dome drivers to offer more life-like sound than their plastic or paper counterparts. They deliver high-quality sound in indoor and outdoor environments without sacrificing strength or depth. Every music lover will find their perfect match through their full range of standing loudspeakers, bookshelf speakers, soundbars and surround sound speakers. Limit the impact on décor through their elegant SoundFrame solution which masks speakers behind beautiful works of art. Integrate sleek amplifiers that elevate the power and style of stereo or surround sound systems.
Whether for two-channel or whole-home audio purposes, Revel systems and speakers deliver impeccable sound quality. Since its foundation in Stamford, Connecticut in 1996, Revel's goal has been to merge premier performance with incredible sound reproduction through a rigorous focus on research testing for all their cutting-edge technology. Now owned by Harman International Industries, Revel guarantees unparalleled audio accuracy and clarity with every line of speakers, from their floor-standing solutions to bookshelf, outdoor and architectural options. The result is sound performance the way the artist intended their media to be heard. Expanding on their luxury solutions, Revel is the go-to partner for Lincoln with audio systems in their Aviator, Navigator, MKZ, Nautilus and Continental car models.
Delight your senses with professional-grade home entertainment solutions designed to harmonize both picture and sound for a breathtaking, true-to-life experience. Unprecedented contrast, color and realism are made possible with Sony's proprietary technologies that also lead in pixel-by-pixel detail for texture you can practically feel. Whether you're outfitting a multi-purpose media room or a dedicated private cinema, Sony's line of premium 4K HDR projectors and TV displays, AV receivers and high-resolution speakers work in tandem to craft the immersive experience intended by film and video game creators.
Start Your Journey to Smarter Living
Connect with us to learn more about how these industry-leading brands work together to create your dream smart home or business.