Prepare for Super Bowl Sunday with 4K and Surround Sound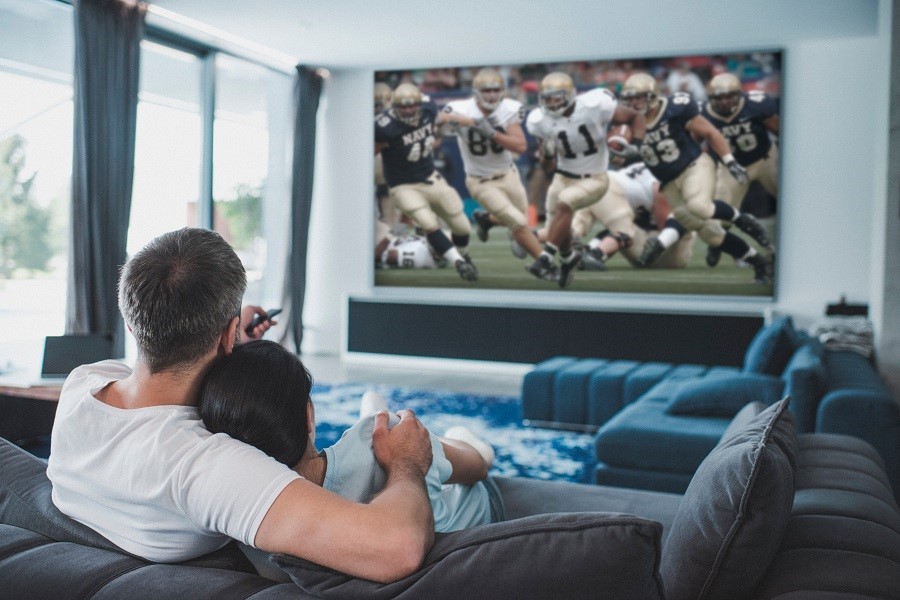 An Upgraded Media Room or Home Theater Installation Will Bring the Game to Life
Every year, the Super Bowl entertains nearly 100 million viewers with action-packed football, memorable commercials, and a flashy halftime show that lives on in conversation for weeks after the event.
For an unforgettable Super Bowl Sunday in 2020, now is the time to upgrade your media room or home theater installation with immersive 4K viewing and stunning surround sound so you can truly bring the action to life in the comfort of your Leawood, KS home.
Read on to explore the suggested audiovisual upgrades by our technology professionals at Applause Custom Sight & Sound and learn how we can help create your dream media room or home theater before February 2020!
SEE ALSO: 3 Home Theater Upgrades You Didn't Know You Needed – Until Now
Our Suggested Display Options
TV displays and projector-screen setups today are bigger and more advanced than ever, bringing true-to-life action to the comfort of your home. With a proper display installation for your media room or home theater, you'll feel like you're at the stadium.
Though the Super Bowl will not be broadcast in 4K, it will be shot with 4K and 8K cameras for future distribution and archiving. By upgrading to a 4K TV or projector, you'll enjoy an upscaled signal that adds perceived detail from HD broadcasts and future-proofs your setup for years to come.
For an immersive display that thrives in multipurpose media rooms, we suggest the Sony MASTER Series line of highest-grade TV models. Available in a variety of sizes from 55 to 98 inches, each model features 4K or 8K UHD HDR and unprecedented contrast for vivid picture in bright and dark environments.
For an upgraded projector in a dedicated home theater, we suggest a true 4K HDR projector from Sony. Enjoy eye-popping color and contrast, spectacular brightness, ultra-crisp images, and no visible banding. Sony offers long-throw to ultra-short-throw distance projectors for flexible installation in any space.
Our Suggested Audio Options
Picture is only half the experience of Super Bowl Sunday. Round out the action at home with surround sound in your media room or home theater for enveloping entertainment. There are many ways to enjoy surround sound in your dedicated viewing space that also complement your personal style.
For sound that's heard but not seen, we suggest discrete in-wall and in-ceiling speakers from industry-leading brands like JBL Synthesis that install perfectly flush with your surfaces to deliver high-fidelity audio that stays out of the way.
For a more flexible audio option, choose a stunning three-driver soundbar and partnering subwoofer by Monitor Audio that's built for large-scale TVs and looks stunning on an entertainment center or mounted on the wall.
Upgrade Before the Big Game!
We've only scratched the surface of the unrivaled audiovisual solutions we offer to help you create the media room or home theater of your dreams. From Sony and Monitor Audio to JBL Synthesis, Marantz, Screen Innovations, and more, we work with only the highest-performing brands in the industry.
If you're considering an upgraded home entertainment system for Super Bowl Sunday and future viewing enjoyment of your favorite movies and TV shows, get started by calling our team at Applause Custom Sight & Sound! We offer in-home consultations to help you decide which solutions are best for you and your budget before we move forward with design and installation.
Connect with our team by calling (913) 498-1183, filling out our online contact form, or sending us a live chat below now. We look forward to assisting you!
Stay Informed
When you subscribe to the blog, we will send you an e-mail when there are new updates on the site so you wouldn't miss them.