Highlighting the Best New Features of Control4 OS 3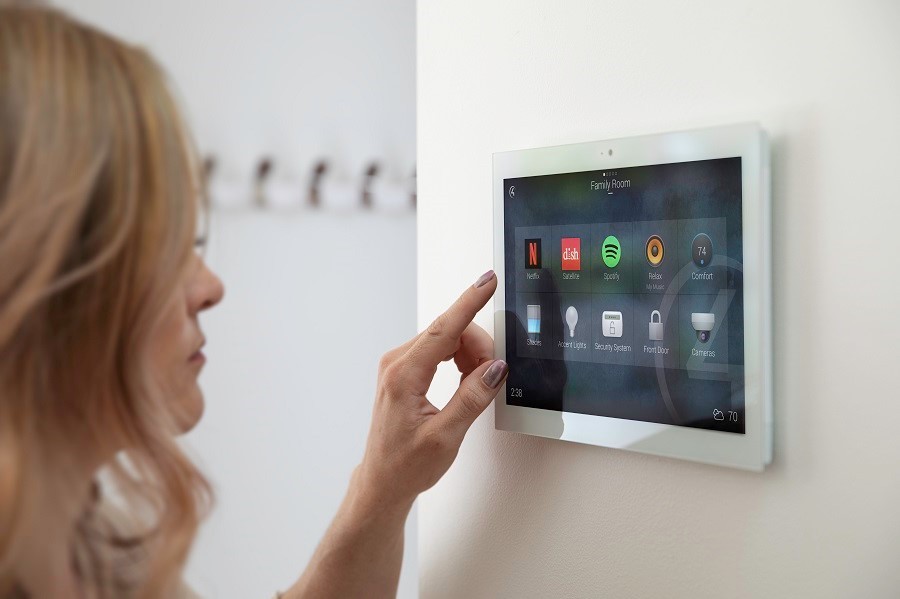 Discover the Most Intuitive and Customizable Home Automation System Yet
In case you missed it, the leading home automation system provider Control4 announced the release of its Smart Home OS 3 platform earlier this year, which offers users more than 1,000 new features for unprecedented personalization of their Control4 smart home.
As a certified Control4 dealer, we at Applause Custom Sight & Sound are excited to share with you some of the most innovative new features of Control4 OS 3 that make up the most intuitive and customizable home automation system yet.
Read below to explore the notable new features of OS 3 and learn how to upgrade the current system in your Overland Park, KS home!
SEE ALSO: A Control4 Dealer Makes Integrating Smart Technology a Breeze
Grid-Style User Interface
Control4 OS 3 prioritizes the user experience by doing away with the unique circular-styled interface and replacing it with a universal grid-style layout. Because the grid design is also used by many other popular consumer manufacturers, users are well adapted to navigating this interface, which makes controlling the Control4 system much simpler for anyone in the family.
Just like you navigate the interface on your smartphone, you can easily hold-and-drag to add, remove, and arrange your devices, streaming services, and scenes on any room screen or dashboard.
One-Tap Music & Video Streaming
Streaming music and video throughout your home is easier than ever with OS 3. Easily access the Media Sessions icon on your smart device for a global overview of what's playing in any and every room of your home. The Media Sessions interface is easy to navigate, providing you with one-tap access to your favorite streaming services.
Your media is now front and center with the Active Media bar at the top of your screen, displaying music controls and track details where you can easily see them. From the same screen, easily add or remove your media from certain rooms, adjust the volume in each room or throughout the entire home, and more.
OS 3 also features native support of MQA (Master Quality Authenticated), so you can experience high-performance audio through streaming services like TIDAL or your own MQA-encoded music.
Favorites Dashboard for Popular Devices
The OS 3 Favorites dashboard unlocks a brand-new world of smart home personalization! Now you can prioritize the devices you use most often for each room, whether that's Netflix in the living room or the lights in the kitchen, to create a much more customized and simplified way of navigating any space in your home.
Add a device to your Favorites dashboard so that those icons are front and center on your smartphone, tablet, or TV display when you need them. Press and hold to "favorite" any device, service, scene, or playlist in any room, and then drag to reorganize or delete icons with a tap.
At-a-Glance Views of Your Smart Home
With OS 3, you can easily access at-a-glance views of your smart home's most vital devices, no matter where you are. Consolidate your door locks, security cameras, lighting, and shades into a single screen and view them from the comfort of your bedroom to quickly ensure your home is safe and secure before you go to sleep.
The icons on your dashboard visually represent the individual states of your connected devices, such as a running fan, an illuminated lightbulb, or open blinds. OS 3 empowers you to take immediate control of any vital device around your home in order to protect your property before you leave for work or head to bed.
Upgrade Today
We've only just scratched the surface of the many new features of Control4 OS 3. A significant upgrade from OS 2, the new Control4 platform has been thoughtfully redesigned to simplify your smart home experience. No matter how you like to control your home, enjoy an optimized Control4 interface that appropriately renders on your device of choice.
Ready to bring Control4 OS 3 to your home? Our team at Applause Custom Sight & Sound is ready to help. Though OS 3 requires professional installation, we'll guide you through the upgrades and give you the reins once we're done so you can craft smart home scenes, dashboards, and more that are unique to your lifestyle.
Learn more about Control OS 3 or upgrade today by contacting our team here or sending us a live chat below. We look forwarding to assisting you!
Stay Informed
When you subscribe to the blog, we will send you an e-mail when there are new updates on the site so you wouldn't miss them.