Find the Right Wireless High-End Speakers for Your Home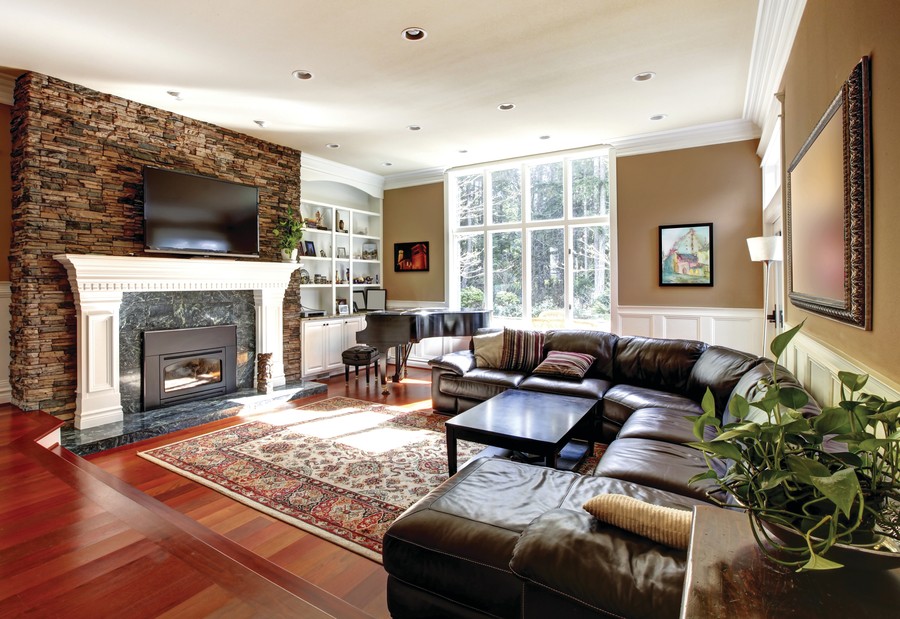 Compare These 3 Top Brands
When you're listening to your favorite artist's latest album or are ready to dive into an award-winning Broadway soundtrack, you want to hear the very best sound performance. And bringing that level of quality to your own Leawood, KS home can be a reality with high-end speakers and sound systems.
In this blog, we'll go through the top three brands we recommend: Sonos, Sony, and Bluesound – and dive into their wireless speaker selection and what makes each distinct. By the end, you can decide which one is the best for you and your space.
Want to find out more? Just keep reading on below.
SEE ALSO: SURROUND SOUND VS. SOUNDBARS: WHICH IS BETTER?
Sony
With Sony's wireless speakers, you can turn your system into a multi-room whole home audio setup. It's possible to enjoy your tunes in a variety of rooms with your smart devices and multiple wireless music sources. Sony's "Music Center" (previously called SongPal) app makes it easy and manageable for you to control which songs play on specific speakers and in certain rooms, right from your smartphone.
Either pair two wireless speakers together to create a stereo system to create a "left and right" channels for the ultimate listening space, or set up an even broader surround sound system by adding rear wireless speakers behind you.
Depending on your room size, Sony has excellent soundbars that can function as your wireless front speakers and other portable products for the other spots. Just like that, you can easily create a surround sound environment with zero hassle and zero wiring.
Stream an endless selection of music from your speakers with built-in Chromecast on every device. You'll have access to over a hundred streaming services and apps and can play any song by just pressing the Cast button.
Sonos
Sonos achieves high-fidelity, crystal-clear sound for any form of media you choose to play through their wireless speakers. Whether you're catching up on a TV show in your home theater, playing a video game, or listening to a podcast, you're guaranteed an unparalleled auditory experience.
Managing your speakers has never been easier than with Amazon Alexa built-in. Voice control allows you simply to say a few words to make any changes. Lower volume, switch channels, peruse your media library, or turn off your system entirely – all without picking up a remote or your smartphone.
Alexa makes taking your media throughout your house that much more accessible as well. Ask for songs to play in the kitchen, or an audiobook to start outside on the patio's speakers. Sonos lets you play different songs and movies in multiple rooms or the same media all throughout your property. And with the Sonos app, you'll have music selections from over 50 services to choose from and browse through.
Sonos' "Beam" soundbar, their most-advanced one yet, delivers wall-to-wall sound for any room of a small to medium size. It's a compact and tiny addition that produces incredible audio. It's easy to mount up on the wall or place on top of furniture, depending on your preference. And you can always decide to add more wireless speakers to the room to elevate your sound performance even more – Beam is very easily built upon, as it can become a part of a full surround sound setup.
Beam's "night sound" feature lets you watch immersive movies and shows late at night without waking up the whole family. Its "speech enhancement" clears up any dialogue or lines that you might normally not understand, giving you a unique and superior viewing of your media every time. You'll never miss a thing or have to rewind again.
Bluesound
Bluesound is all about true portability for your wireless speakers, without compromising on sound quality. Play music in your living room with wireless speakers creating a stereo or surround sound system, and then pick up the same speakers to bring with you to the park or on the road. It's an unmatched high-fidelity audio performance in every room of your home, and any part of the world you want to bring it.
With Bluesound's range of speaker designs and sizes, you'll find one that fits your specific room's needs. A level of quality previously only heard on wired audio systems is now available wirelessly and digitally, with a clear and detailed sound performance no matter what you're listening to or watching.
Experience high-fidelity sound and music throughout your house in any room by using Bluetooth on your smartphone or other devices. Choose a song to play on your wireless speakers, and you'll feel like you're sitting in the studio listening to it being recorded – the quality is that top-notch.
So which high-end speaker brand is right for you? Still want to learn more? Feel free to give us a call or fill out our online contact form to find out more about these three brands' various products and to schedule a no-obligation consultation with our team. We'd love to hear from you!
Stay Informed
When you subscribe to the blog, we will send you an e-mail when there are new updates on the site so you wouldn't miss them.