3 Ways to Use Lighting Control in Your Design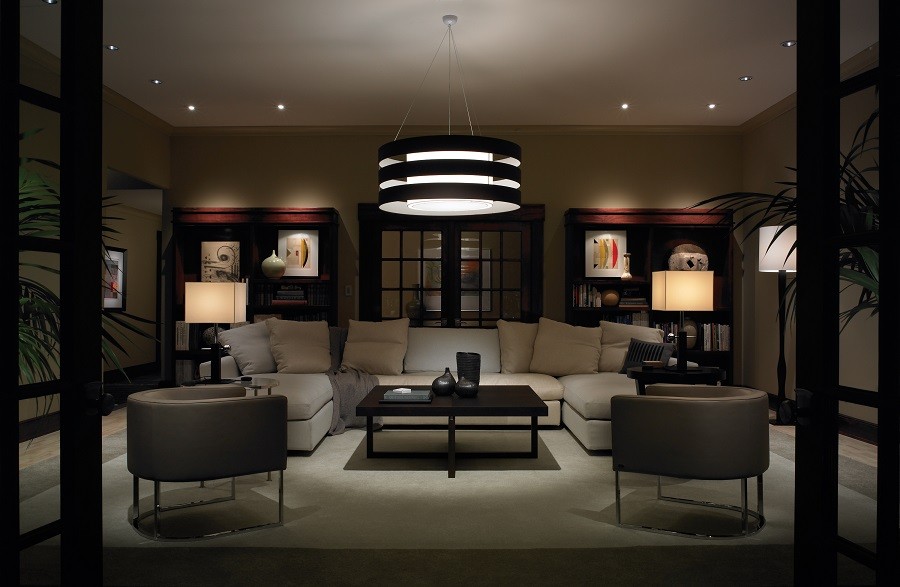 Homeowners and Interior Designers Note These Style Techniques
Good lighting can elevate your design at all times of the day. Whether you're settling in for a night watching movies or hosting a garden party for several friends, lighting sets the tone. When you're selecting your furniture, deciding on color schemes, and designing the look of your new home, don't forget about the illumination. As a homeowner or designer, home lighting automation has tools that make it simple to arrange and control your Kansas City, MO area project. Continue reading to learn more. 
Scenes
A home lighting automation system has many techniques for controlling your lighting. One of our favorites is scenes. Scenes are a collection of lighting settings that you use often – whether lamps are turned on or off, the brightness of the overhead light, the position of window shades, etc. These can be based on functionality--like a scene created for when you're heading out for the day that turns off all your lights to conserve energy--,but they can also be used to enhance your design.
If you're a homeowner or an interior designer, work with a lighting installation team to place lights appropriately. After installation, customized scenes saved to your control panel will allow you to recreate settings that work best with the decor and architecture with the press of a single button. Develop lighting that highlights focal points like your mantel or a specific piece of art. These scenes can be reprogrammed in your smart home control system to adapt with design changes.
See Also: What Can You Do With Smart Home Control?
Layered Lighting 
Creating a comfortable space for many different scenarios requires several types of lighting. That can include ambient lighting, task lighting, and accent lighting. Here's a refresher for these various lighting styles.
Ambient Light: Typically comes from above and provide the basic lighting needs for the room. You can utilize dimmers to make your light as bright or as dim as you need.
Task Lights: When you need some extra brightness to read or put on your makeup, you may need specialized task lights. These can be found above your mirror, under your cabinets, or on your bedside table.
Accent Lights: These lights could include table lamps, decorative sconces, or lights above artwork. These lights can draw the eye to specific aspects your design.
Each of these lighting types has its distinct use, but they also work well together. Home lighting automation allows homeowners to manage each of these various types of lighting to create an environment that is functional and beautiful. An interior designer can help you develop scenes, like those discussed above, using a layered lighting look.
Landscape Lighting
Great lighting shouldn't be limited by your walls. Outdoor lighting allows you to entertain friends and family on the patio or enjoy warm summer nights in style. Landscape lighting is designed to accentuate the features of your yard or garden as well as set up a comfortable space on your patio.
Outdoor lighting also has a lot of functional value. Illumination along your paths and walkways make it easy to move about your yard in the evening time. With home lighting automation, you can utilize solar sensors that track the amount of sunlight present. That way, when the sun's light wanes, your lights will automatically turn on to maintain a comfortable environment.
By employing some smart technology tools, your lighting not only functions better but enhances your design. Contact us to learn more about how to set up an ideal home environment with lighting control and other automation techniques.
Stay Informed
When you subscribe to the blog, we will send you an e-mail when there are new updates on the site so you wouldn't miss them.